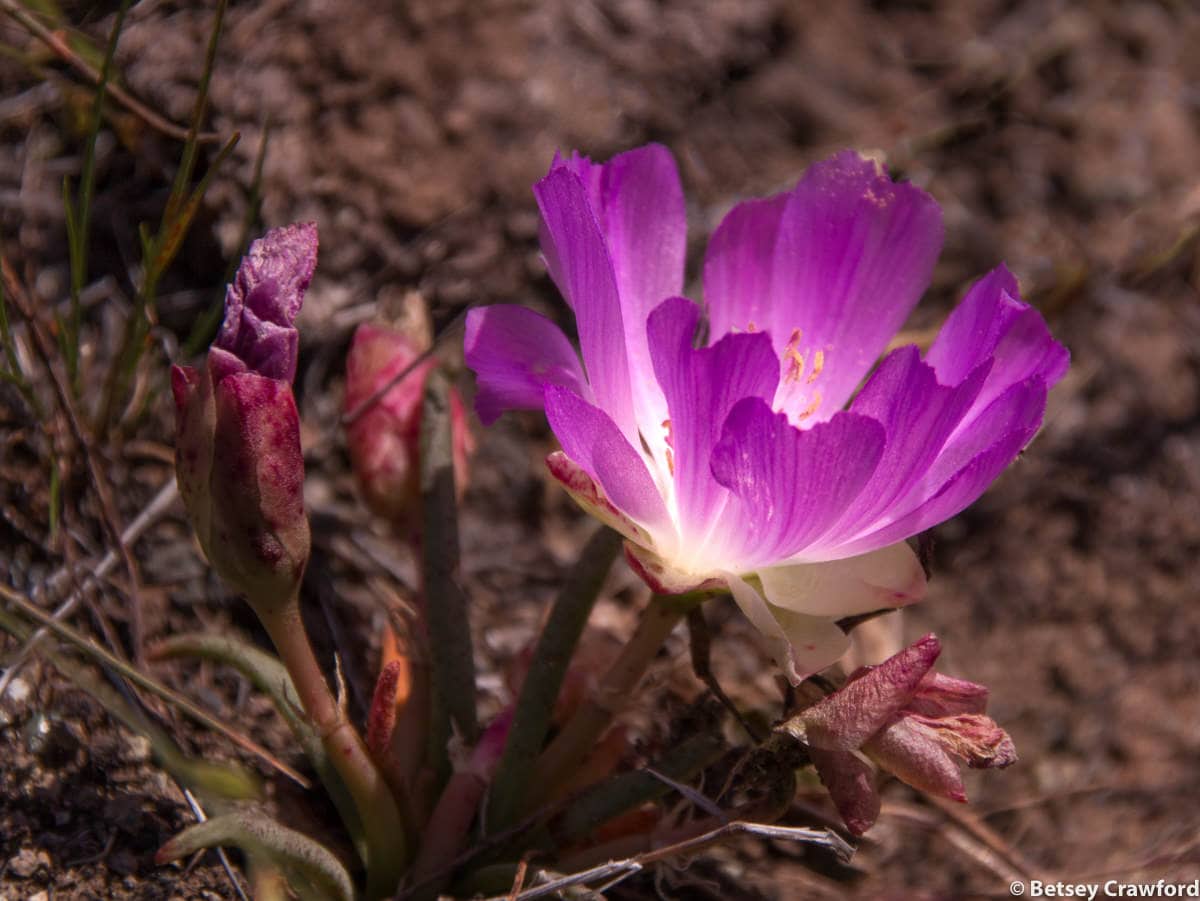 This is a story about a difficult and fascinating terrain, a beautiful, adaptable flower, and a maddening claim. Bitterroot is far from rare in the western states of the U.S. and Canada. It's Montana's state flower, has bequeathed its name to the Bitterroot River and Valley there, as well as to the Bitterroot Mountains and the Bitterroot National Forest, which separate Montana and Idaho,   It grows from northern British Columbia to southern California, and west to Colorado. It was a major food source for Native Americans for thousands of years.
But in Marin County, just north of San Francisco, where I'm spending my spring, it only grows in two places, and very sparsely. One of those spots is on a small ledge of serpentine on Mount Burdell, in Novato. If I hadn't been on a walk with Marin County naturalists both times I saw it, I would never have found it. There are tons of small rock outcroppings on walks in Marin, and sometimes they don't even aspire to the term 'outcrop.' They just look like bare, rocky soil.
But this isn't any rocky soil. Serpentine is named for its dominant mineral, serpentinite. There's more of it in this neck of the woods, going north into British Columbia, because it forms at the edge of old continents, where the inexorable plates moving along the planet's surface meet. One dives under the other, scraping massive piles of rubble onto the edge of the upper plate, and taking equally massive amounts deep into the earth. After eons of heat and pressure, that rock finds its way to the surface again, the crystal structure it once had completely altered.
Among these metamorphic rocks is serpentine, noted for its blue and green coloring, though it can have lots of colors, even orange. Serpentine is poisonous for most plants since it contains a much higher ratio of magnesium to calcium than is usual for the the earth's crust, or is at all comfortable for plants. It has high levels of heavy metals toxic to plants, like manganese, chromium and nickel. It even has asbestos in it, which makes it ironic that it's the state rock of California, a state with a 'this causes cancer' sign everywhere you go.
Whatever plans to grow on the thin, pebbly soil that erodes from serpentine has to have adaptations that allow it to deal with this toxicity, and to be able to live without the potassium and phosphorus that are crucial to most plants. Some have developed ways to selectively absorb the calcium they need, and others — called metal hyper-accumulators — have evolved to be able to store the toxic metals in their leaves and the ground around them. This not only solves the problem of the excess metals, but protects the plants from browsing animals and various forms of bacteria.
There are plants that have adapted so well they can only live in such soils. Bitterroot is not one of these serpentine endemics, though its habitat is always rocky and dry. It solves its water needs with a large root for such a small plant, thick like a forked carrot, and very nutritious. Like many members of the Portulacaceae family, it has fleshy, almost succulent leaves and stems, which also help with water storage. These leaves go dormant in the summer, sometimes even before the flowers bloom, which also helps the plant cope with dryness from sun and hot rocks. The whole plant stays low to the ground, so is less affected by drying winds.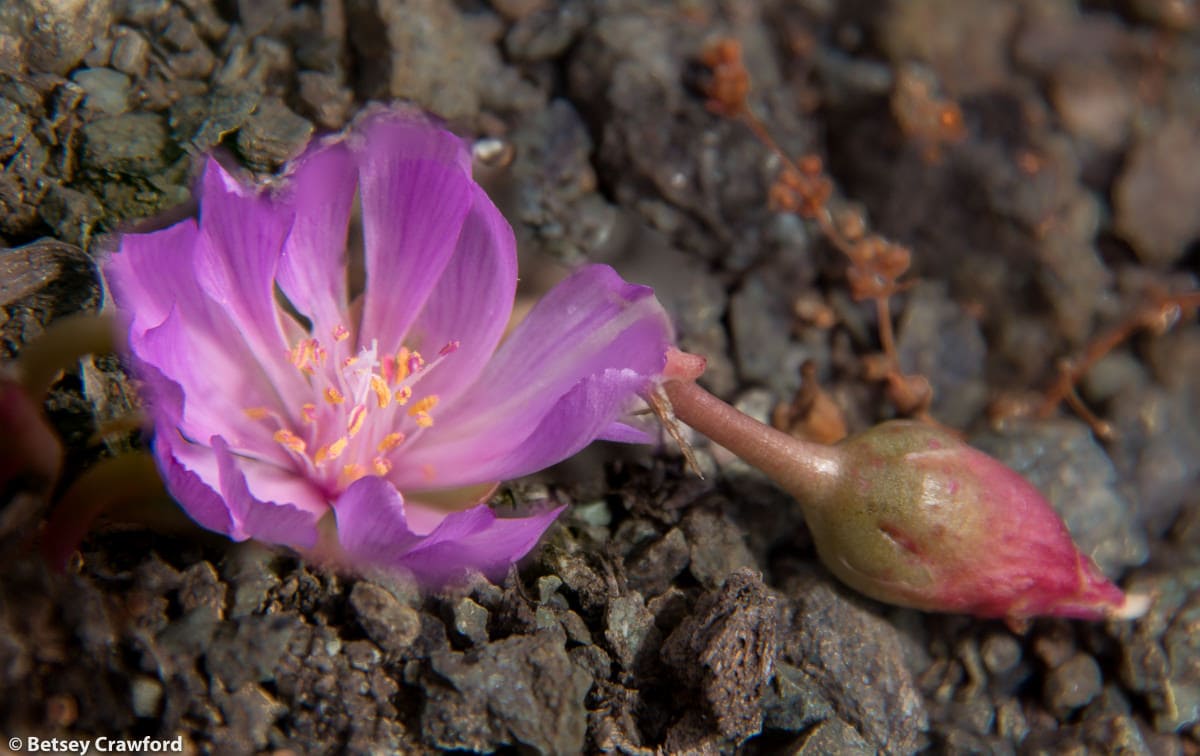 Given all these strictures — metal toxicity, water deprivation, low fertility — bitterroot's flowers are startlingly large and lovely, opening out like waterlilies strewn on rock. They bloom briefly, and often intermittently, preferring sunny days to cloudy, and sometimes afternoons to mornings. Having seen them blooming gloriously on one visit to Mount Burdell in 2014, I was looking forward to seeing them again. But this April they seemed to be struggling. Their leaves had gone dormant by mid-month, the tips of the buds were dry, and the few flowers I found blooming were paler in comparison. All, perhaps, the result of early, unusually hot weather. And proving, once again, that loving the ephemeral beauty of wildflowers requires a certain existential fortitude.
At least I'm not depending on them for food, which the Native Americans did for millennia. And that brings us to the third part of the story: the maddening claim. Bitterroot's Latin name is lewisia rediviva, named by German botanist Frederick Pursh for Meriweather Lewis, who brought back samples (still at the Academy of Natural Sciences in Philadelphia) from his great exploration. Rediviva refers to its ability, after years in Lewis' luggage, to revive when planted, although it never bloomed.  Naming plants for the Europeans who came across them in their travels has been standard practice ever since Linnaeus' introduction of botanical nomenclature in the 18th century. Given that it was a European system, that was perhaps inevitable.
What I find maddening now, however, is to read the claim that Lewis 'discovered' bitterroot. Here are some of the people who discovered bitterroot long before Lewis and Clark arrived in Montana: the Washoe (California and Nevada), Owens Valley Paiute (California), Northern Paiute (California, Idaho, Nevada and Oregon), Western Shoshone (Idaho, Nevada, California, and Utah), Gosiute (Nevada and Utah), Northern Shoshone (Idaho, Wyoming, Utah), Eastern Shoshone (Wyoming), Southern Paiute (Utah), Northern Ute (Utah), and Salish (Idaho). Also, the Upper Nlaka'pamux, southern Shuswap, Okanagan-Colville, and southern Kootenay of British Columbia. North of bitterroot's blooming range, the  Nlaka'pamux, Lillooet, northern Shuswap and northern Kootenay peoples traded for the roots, which were so valuable a bag of them could buy a horse.
The wholesale dismissal of people living here for 10,000 years before Europeans arrived has had a thousand infinitely more dangerous and debilitating manifestations than the claim that Lewis discovered bitterroot. But it still seems worth pointing out that this is another dismissal. These cultures had a long and intimate relationship with the beauty and durability of bitterroot, living on its energy through the winter and timing their spring foraging migrations by its bloom. It was the second most commonly collected root for food, after camassia, the source of crucial nutrition for untold generations. And yet it's credited to and named after a man who only mentioned it in his journals to note that he found the bitterness of the boiled roots 'naucious to my pallate.'
It seems a little harsh to sandwich the gentle, fleeting beauty of bitterroot between the toxic realities of serpentine and the tricky prejudices of language. But there are complex and deeply interwoven histories among humans and plants, cultures and habitat, politics and policy. My Irish forebears came here because Ireland was devastated by the Great Hunger of 1845-1852.  The famine was caused as much by disastrous political conditions as by the fungus-like Phytophthora infestans, which laid waste the potatoes that almost half of the population — due to those political realities — relied on as their sole source of food. There are thousands of such stories in human history, and more to come as climate change and population pressure alter the conditions and places in which plants can grow. These stresses will cause both strife and inventive adaptations, as plants, the earth, and humans continue their completely inseparable evolution.
I'd love to have you on the journey! If you add your email address, I'll send you notices of new adventures.