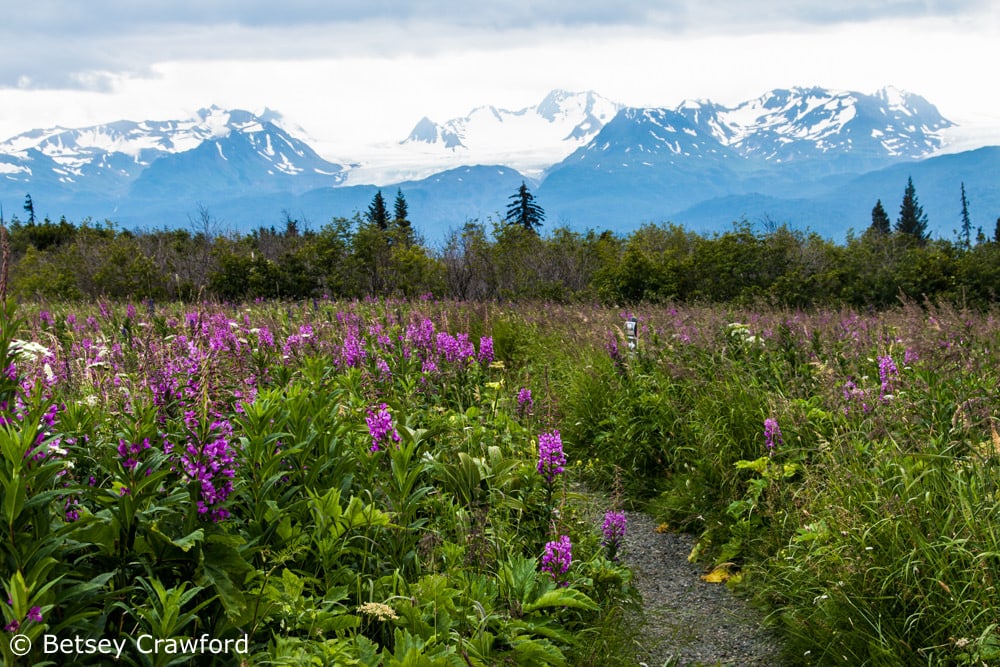 I fell in love with Homer as we drove down the uninspiring last slope of Route 1 into the town, but I have no idea why it happened then. I'd been driving along the Cook Inlet for the last hour, with one magnificent snow-capped volcano after another looming up across the water, so Kachemak Bay, though incredibly beautiful, wasn't a surprise. At that point, I hadn't yet seen our small, slightly wacky RV park, attached to an old inn, with its extremely friendly staff and beautiful view. I didn't know that we'd find more charm, and art, along the main street than we had in the other towns we'd visited. Nor did I know that there was a pretty cafe in a quaint, old building across the street from the RV park, with enormous salads and delicious breakfasts.
I didn't foresee the moose browsing in the twilit marsh just down the block, or walking on the beach as two bald eagles flew by, just above eye level, fifteen feet in front of me, heading to a cluster of trees to roost for the night. I knew nothing about the Homer Spit, a 4.5 mile long, flat extrusion into the bay — home of beaches, marinas, RV parks, restaurants, tee-shirt shops, adventure guides, commercial fishing — that shares a lot of the rackety charms of Montauk, New York, a place I've loved most of my life, on the far side of the continent.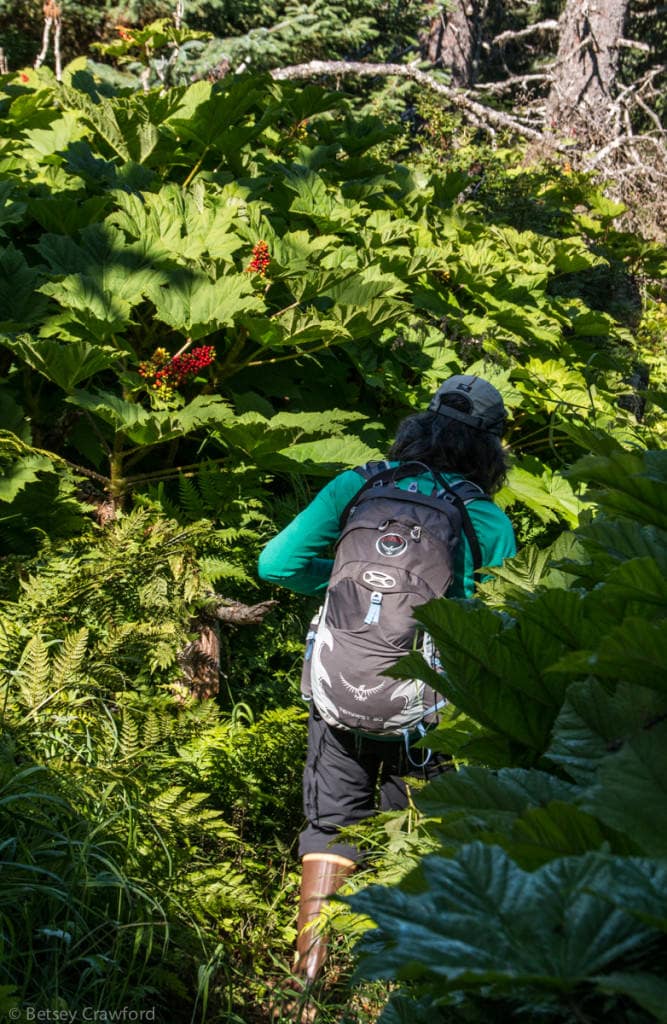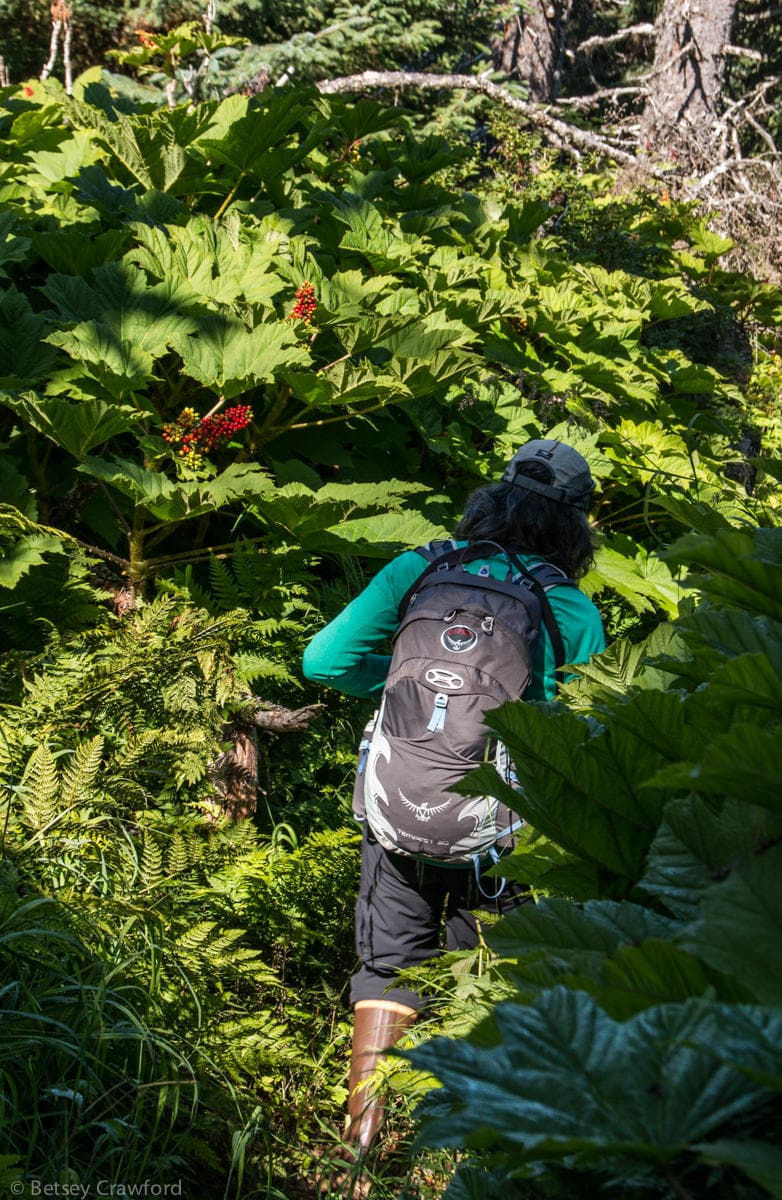 I hadn't eaten the halibut tacos at the farmers market, or the Thai curry down on the Spit, with chunks of just-caught salmon and halibut. I knew little about the temperate rainforest in the blue mountains, with their snowy crowns and icy glaciers, across the glistening water of the bay, with devil's club so enormous it towered over us as we walked, starfish the size of my head, seals basking on the beach, fungus so large and strong we could have used it as a stepping stone to climb the tree hosting it, and puffins on the way home. I had no idea Homer would have the most wildflowers of any place I'd go in Alaska.
Or what great flowers they would be. Lots of the luminous yellow paintbrush native to Alaska. Sharp-beaked, dark-veined, strangely beautiful monkshood, hiding a neurotoxin so poisonous the indigenous Alaskans tipped their spears with it to kill whales. Sunlit, lavender wild geranium. Windswept cotton grass. Sweeps of fireweed. Tiny, delicate grass of Parnassus, with its glass bead interior. Fierce, blue-black star gentian. The small bells of pink pyrola, nestled in knee-high forests of horsetail and fern, and the wide bells of the minute single delight.
Like a lot of love, there was no explaining its arrival. Even though none of the things that were to prove so endearing about Homer were evident on the ride in, I loved it on sight. We were planning to stay two nights. The next day, after lifting the shade on the back window to horizontal stripes of vivid magenta fireweed, pale blue bay, deep blue mountains, ice blue glaciers, luminous blue sky, I promptly went to the office and said we'd stay a week. If it hadn't been for the fact that I wanted to see a lot more of Alaska before winter, and the fact that the RV park cost exactly twice our hoped-for budget, I'd still be there.
It took me no time at all to find the Center for Alaskan Coastal Studies and their Carl E. Wynn Nature Center, with five miles of trails flanked by an abundance of wildflowers. They were also the group I went across Kachemak Bay with, for a day of hiking and tide-pooling in Peterson Bay. It took a little longer to find out about the Eveline State Recreation site, eighty acres donated by a man in memory of his wife. There the trails wound through 5' high wildflowers and grasses, like walking through a prairie. One trail went through muskeg, a word that has always seemed to echo out of the wilds of Alaska, with its scraggly spruces and vast beds of moss that you can sink into to your shins. It has calm enough origins, however: it comes from the Cree word for low lying marsh, maskak.
In Homer, I found another facet of the deep mystery of place. I've never, ever thought about living in Alaska. It's expensive, too far away, and the last thing I'm looking for is a place with long, dark, cold winters. So it's close to impossible that I will find myself here. But Homer is the second place, in all my travels, that I could see myself settling in. (The other was Port Townsend, in Washington.) Yet this isn't the same as the heart recognizing that it already knows a place as Home, a place mysteriously full of ancient echoes, the way I described South Dakota and Utah in the Moving Hearts post. There are no calls from Spirit in Homer, no deep recognition that this is a place already held in my heart. But it's a place full of things that matter to me — plants, wildlife, water, beauty, art, fresh food, easy-to-find adventures — and I tore myself away with deep reluctance, already wondering how and when I'll get back.
I'd love to have you join me! If you add your email address, I'll send you notices of new monthly posts.