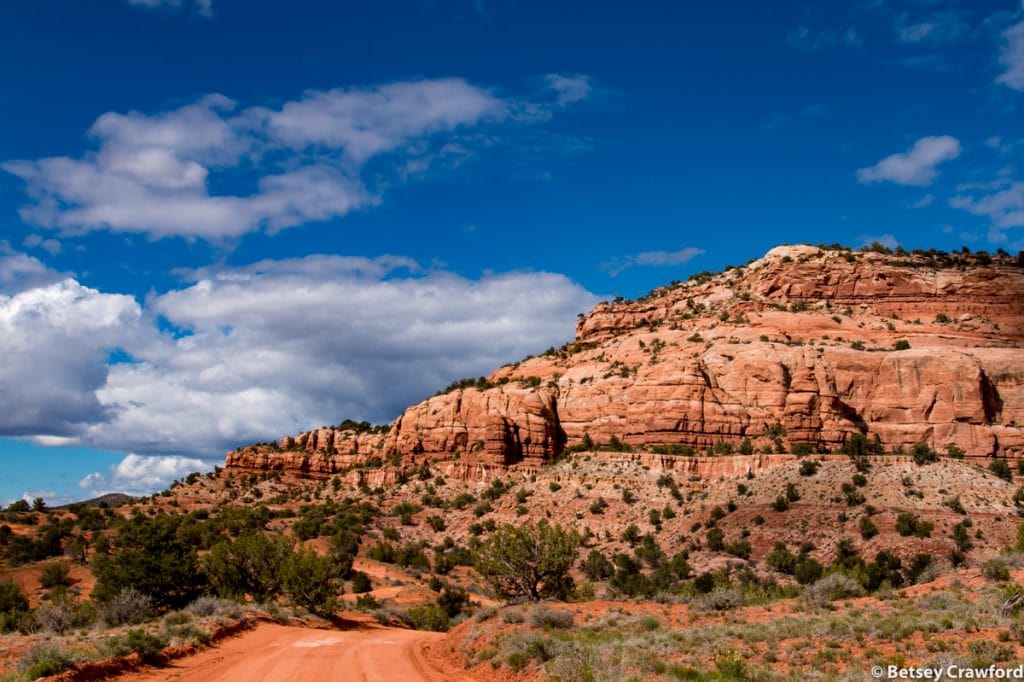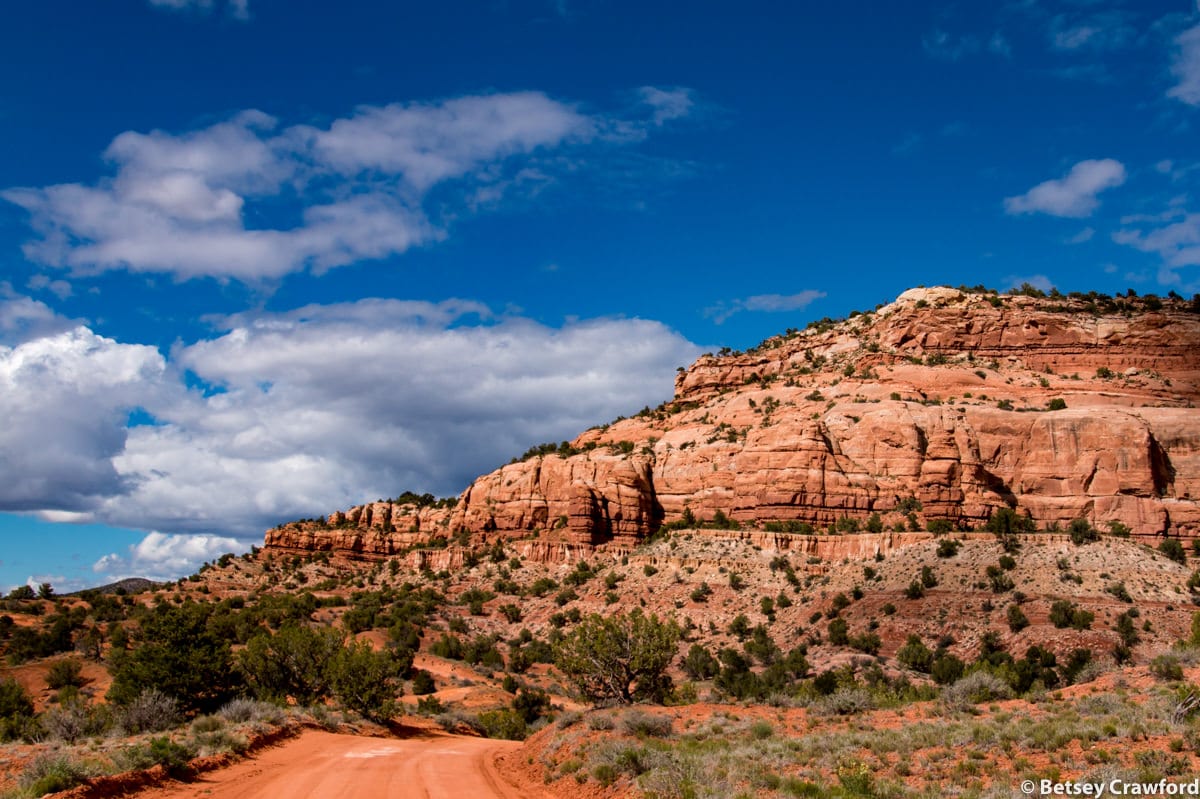 In his 1981 book, Basin and Range, John McPhee gave us a good analogy for the scale of deep time. Stretch out your arm sideways, and imagine that the 4.55 billion-year timeline of earth's history runs from the tip of your nose to the tip of your middle fingernail. A quick swipe of a nail file would wipe out human history. So, a lot happened before we showed up. Vast seas came and went. Continents formed, coalesced, split apart, regrouped. Mountain ranges were pushed up and eroded away. More peaks were shoved up out of the remains. Volcanoes spewed untold amounts of lava and ash. Great ice sheets advanced and retreated for eons. Plates moving over the surface of the earth met and groaned as one was forced under the coming edge, or crushed against it. Running water slowly eroded everything it passed over, forming great rivers that cut deep-walled canyons over millions of years. Life startled into existence and began its long evolution.
It was wild. And I'm sorry I missed it, though the 300 million-year stretch of meteor bombardment would have been harrowing. The wonderful news is that we can still see into earthly deep time; all we have to do is look at rocks at any road cut, on any mountain or desert trail, along any coast. One of my favorite places for reading earth history is southern Utah, where you can literally drive through deep time. It's not only an open book but it's in vivid color. It's almost in pages: layers of sandstone, limestone red with hematite, white limestone without, volcanic ash, volcanic tuff, tidal-flat mud, dinosaur footprints, ancient conifer and fish fossils.
The photos above and below were taken on the same drive, a couple of hours apart. Above is the lunar landscape left by the erosion of the Cretaceous era Mancos Formation. Some 95 million years ago mud quietly sifted out onto tidal flats, between the toes of dinosaurs, on the edge of an inland sea. The white rock in the picture below is Navajo Sandstone, laid down by wind in a vast desert of sand in the early Jurassic Era, which began 201 million years ago. It sits on top of the Kayenta Formation, whose layers were deposited in rivers, also in the early Jurassic. There was plenty of time for both. The early Jurassic lasted for 27 million years.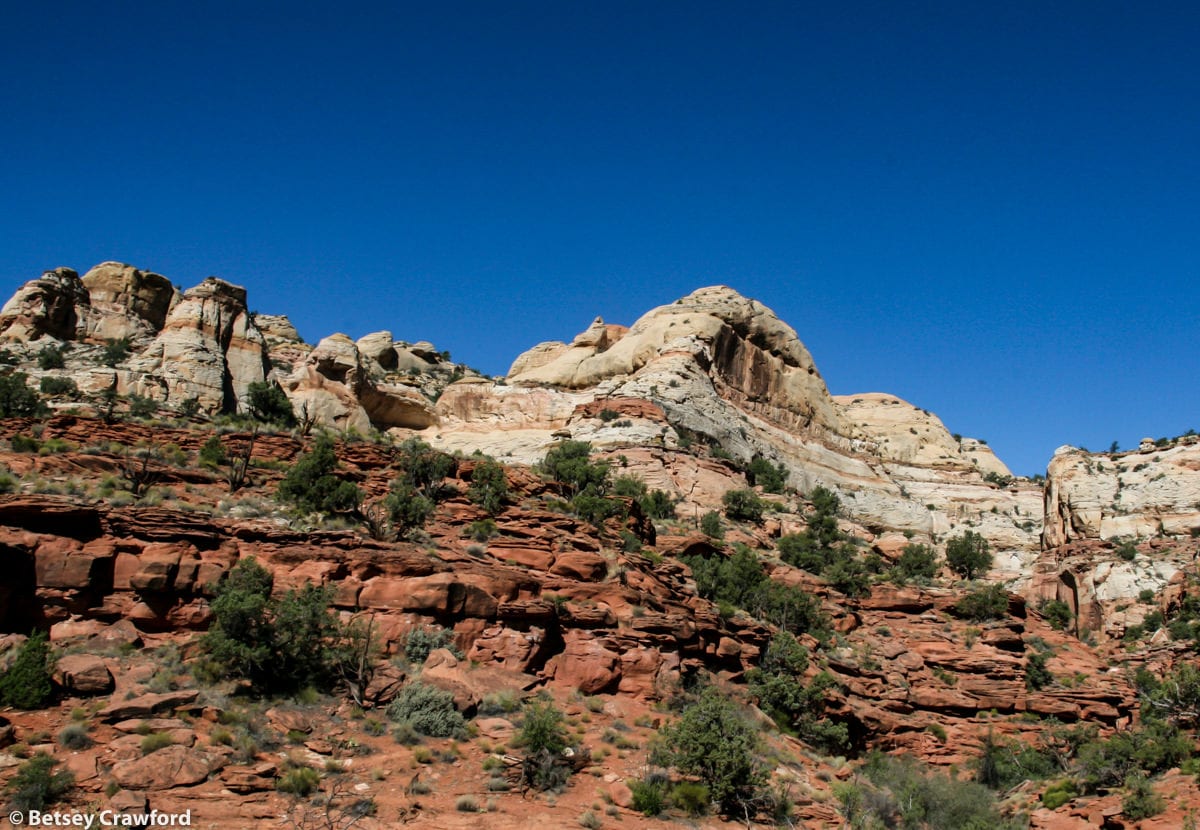 In the eleventh century, two widely separated but equally brilliant polymaths, Shen Quo in China and Ibn Sina in Persia, theorized about the geologic upheavals that might have formed the mountains surrounding them, and the seas that had apparently left behind the fossil-laden strata at their feet. They also conjectured about the vast length of time these processes must have taken. Shen Quo postulated that climate changed over time when he saw fossil bamboo in an area where bamboo no longer grew. But in Europe — where, despite many dissenters, the biblical account of creation held sway — it wasn't until the end of the eighteenth century, with the writing of Scottish geologist James Hutton, that a more modern view of the formation of the earth began to take shape.
Hutton lived near the Siccar Unconformity. Looking at stratified rocks at a 45-degree angle lying over older strata, tilted to the vertical, he saw something we now take for granted: the inconceivably long history of an earth where layer upon layer of silt sifted to the bottom of whatever sea was current at that time. In the ebbing and flowing of these ancient waters, layers were added onto lower layers, weighing them down until they hardened into stone, sometimes separated by breaks called unconformities. Hutton guessed that geological forces, which we know as the meeting of tectonic plates moving on the surface of the earth, pushed these strata off their horizontal axis.
John McPhee is credited with the modern use of the expression 'deep time,' but I'd never heard it until the work of Thomas Berry entered my life. Both meant the same thing in scientific terms, though Berry was concerned with even deeper time — the 13.7 billion years since the universe came into existence. Berry's thought was also infused with his spirituality and his deep appreciation of indigenous wisdom. The beauty of his philosophy is that he didn't look at our eyelash-sized sliver of human history as an accident or addendum to the vast forces that had existed for so long before our arrival. Nor did he see us as a culmination of such forces. Rather, we are another manifestation of these great energies. Our unusual consciousness was not meant to set us apart from — and certainly not over — the rest of creation. We hold a way for the universe to see, feel, and ponder itself.
I wish I could say that this billions-of-years perspective means I'm not buffeted by day-to-day affairs, either personal or political. But I am, whether from private concerns about my loved ones, or public fears for people I will never meet, but nevertheless cherish. Too much suffering is at stake. The damage to the earth, with more to come, is heart crushing. I mourn my former confidence in the strength of our institutions. For the first time since childhood I'm worried about nuclear war.
And yet, under the wash of day-to-day anxiety, Berry's vision of deep time offers me a sense of strength and an underlying peace. When I stand on layers of stone in Utah, or indeed anywhere on the planet, I'm grounded into those molecules and the forces of those unfathomable years by the simple fact that I am part of them, made of the same stuff, here for the same reasons. I bring to them the gift of being able to reflect their beauty and mystery. They bring the literal ground of my being.
I'd love to have you on the journey! If you add your email address, I'll send you notices of new adventures.
Related posts: