Since the middle of March, when California's shelter in place started, an acupuncturist friend has been offering weekly meditations via phone. At the beginning of each she asks us to imagine ourselves in a nurturing place in nature. Whenever I receive such an invitation, I invariably find myself sitting on a forest floor, trees reaching high above me, leafy branches arching overhead, sunlight glinting through the openings between the leaves. That is peaceful enough, but the most important element is that I'm surrounded by ferns, their graceful fronds gently touching my shoulders. I'm in a soft sea of wavy green.
Why ferns? I could as easily imagine being in a meadow full of wildflowers. But there is something about ferns that speaks of peace and the deep quiet breathing of the green earth. I don't remember a time I didn't love them, yet I don't remember them from my suburban childhood. But they were likely a part of the woods I lived in for several very young years. For they are happiest in the woods, growing enormous in the moisture-laden forests of the Pacific coast or in tropical rainforests, where they grow in the trees as well as at their feet. But some fern species also survive long dry seasons — a few are drought-tolerant enough to live in deserts — allowing them to have a foothold everywhere except the poles. For all their graceful delicacy, they are a very hardy bunch.
As we would be, too, if we had survived for 360 million years, outlasting two major extinctions, feeding dinosaurs along the way. For 200 million years they were mostly enormous trees. Those are still with us, somewhat unfortunately. They are now the coal and oil that power the industrial world. The ferns that we live among today — which include some tropical tree forms — evolved around 160 million years ago, at the time the first flowers began to appear. Flower forms have proliferated over the eons. Petals, colors, leaf forms, stem length, fruits all continue to evolve because their habit of cross-pollination allows for a continuing creative mix of genes from different parents. This gives us the enormous variety of flowering plants covering the earth.
Ferns, on the other hand, evolved a different method. They produce spores, usually along the undersides of their fronds, stored in sori. When the spores ripen, the sori open and the microscopic spores puff off in the wind. Once on the ground, they form a tiny new plant, a prothallus, which produces both egg and sperm. Whatever water is available allows the sperm to swim to the egg and fertilize it. The new fern is launched, with genes from one only parent. This process has still produced a variety of ferns, but minimally compared to flowering plants. We've named 300,000 of the latter, to just 12,000 identified ferns. Only a handful of those — 380 species — live in North America.
Ferns also frequently reproduce by rhizomes, fibrous stems that also hold roots, traveling just under the ground. Fronds pop up along their length. That's how the forest floors in my neighborhood have become covered by them. I am blessed to have a place filled with ferns — pictured below — that I can get to any time I want. It's not quite my meditative dream, where I almost disappear into fern fronds, but it's a good substitute.
It's along a popular trail, so I'm unlikely to be there for long without my closest genetic kin passing me by. But when they have passed, I'm still among my cousins. We are in the midst of a worldwide call for recognizing our kinship with people who share everything but the most superficial differences. Less than 1% of human DNA accounts for the marvelous variety of people we see on a busy street any day of the week. Given our millennias-long struggle to recognize that we are infinite varieties of the same creative force, that every human is family, it can be a reach too far for some to realize that we are also intimately related to the green world around us.
And yet that is one of the consoling things about sitting among the ferns. They, too, are family. We share DNA, about 25% of it. Our respiration depends on the same cytochrome-c. Our circadian rhythms depend on the same PRMT5 gene. These reach back to our earliest forebears, the one-celled organisms that came to life in the thermal vents of the ancient ocean 3.8 billion years ago. Though our genetic ways split 1.5 billion years ago, their chloroplasts and my mitochondria continued to travel the same journey, powering us both with energy. The minerals in the rocks and dirt I sit on among the ferns are the same minerals structuring both our stems and bones and flowing in and out of our cells. All gifts of the earliest stars.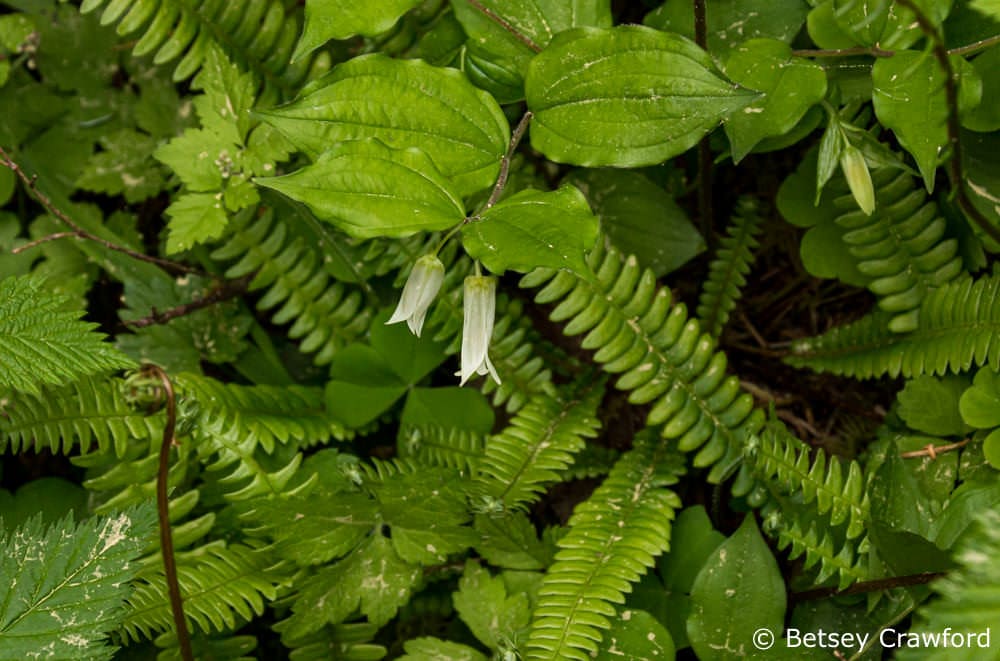 And here is the most magical thing: they see me. They know I'm there. Indigenous peoples have always known this. Now plant scientists like Stefano Mancuso are exploring features common to ocelli, the simple eyes of insects and other invertebrates. They are also found in epidermal cells of both leaves and roots. Mancuso is building on insights from the early twentieth century, when Austrian botanist Gottlieb Haberlandt proposed that plants can register images. Another botanist, Harold Wager, took recognizable pictures of the English countryside using a variety of these epidermal cells as lenses. His achievement earned him a front-page headline in the New York Times on September 8. 1908.
Why was this insight forgotten for more than 100 years? Mancuso suggests the idea of visual ability in plants was simply too eccentric for anyone to follow up on it. This fascinates me. Those were the years when Einstein was revolutionizing physics, opening the entire universe. The nineteenth century saw an endless parade of fossil hunters, set off by the insights of Scottish geologist James Hutton, who wrenched earth's history out of the bible. As did The Origin of the Species, published just a few decades before Haberlandt. Darwin's son, Francis, was a champion of his work. It wasn't that people weren't used to new and challenging world views. What made the idea that plants have visual capability a bridge too far?
Institutionally, things haven't changed much. But there are now revolutionary plant scientists like Mancuso, Monica Gagliano, and Suzanne Simard who are paving the way with studies of plant communication, memory, choice, and decision making. Their work tells me that as I sit on the ground among the ferns they not only see me but feel me. Roots, which could be considered the brains of plants, are exquisitely sensitive. They would sense changes in the weight, the air, the light above them. Even sitting on the bench in my fern alcove above I would change the light and air, give greater weight to the ground, subtly alter the temperature. Plants respond to light and chemical signals in the world around them. What do they detect from the chemicals I give off? Do they read my mood? Do they know I've come for comfort and peace? Do they embrace me?
That's how it feels to be among them. Their aliveness and our infinite interconnectedness is something I feel so deeply. I know their resilience, their strength, their persistence. I am among beings that have lived through long, long eons, some quiet, others ferocious. They have survived what most others couldn't. They have grown everywhere. Nothing surprises them. They blow in the wind and upright themselves. They burn and start growing again. Floods wash over them, recede, they adapt. Forty-four million years of global cooling? They cope. The air grows dry and they figure out how to work with it. The air grows moist and warm and they're even happier. Great ice sheets come and they wait 50,000 years for the ice to melt and then start growing again.
The visual softness of their graceful arches is deceptive. The fern spines are strong, hard to the touch, hairy. The fiddleheads are firm, almost fiercely held as they start to open. The leafy pinnae growing from the stalks are pointed, papery, even leathery as the fronds age. And yet they are — as a whole, a community — soft. Artemis, the goddess of the woods, passes easily among them, rustling them slightly. They move aside, bending and recovering, ever retaking their space in the cosmos.
Their existence gives mine more room to be, more depth to depend on. What sustains you? I was asked recently, and I immediately thought of the green world that means so much to me, and the earth it springs from. All my relations, as the Lakota say. A constant showering of nourishment and abundance. And when I know that I am part of it, that the same energy that flows through all flows through me, that's where my energy comes from, my sustenance. When I lose that connection I'm scattered, anxious, feeling engulfed by life's details. But I take heart from the desert fern that dries up and reconstitutes itself once the rain comes. It reminds me that the peace ferns provide is something I can carry everywhere, revivifying it as it wilts again and again in the jangling flux of human life.
I'd love to have you join me! If you add your email address, I'll send you notices of new monthly posts.
Related posts